Sunwing & Westjet Vacations: New Baggage Policies
Sunwing Vacations
Sunwing Airlines is introducing changes to its baggage policy this fall, introducing a baggage charge for domestic and cross-border flights while increasing the complimentary baggage allowance per passenger on several of its routes.
In line with other national carriers, the airline will be making amendments to policies on its domestic services and flights to the USA for new bookings effective Oct. 16, 2015. Each passenger on these routes will also be entitled to an increased checked luggage allowance of 23 kg, however there will be a service charge of $26.25 (or $21.00 if prepaid up to 48 hours in advance) inclusive of taxes, per direction, for their bag. Effective for new bookings departing Jan. 5, 2016 onwards, the inflight service on domestic and US routes will now comprise of a buy on board menu with a selection of meal, snack and beverage options.
Westjet Vacations: Changes for baggage and advance seat selection fees.
Effective November 3, 2015, WestJet is increasing fees on checked baggage and advance seat selection in the exit row. The new rates apply to bookings made from November 3, 2015 onward for travel on or after January 6, 2016. Bookings made prior to November 3, 2015 are not affected.
WestJet is increasing fees in an effort to keep fares low. Increasing ancillary revenue allows us to avoid many of the fare increases adopted by our competitors and it allows our guests the opportunity to purchase only those products or services they want.
411travelbuys.ca:
We Find it. You Buy it. FOR LESS!!!
Select your Tour Operator to See Policy: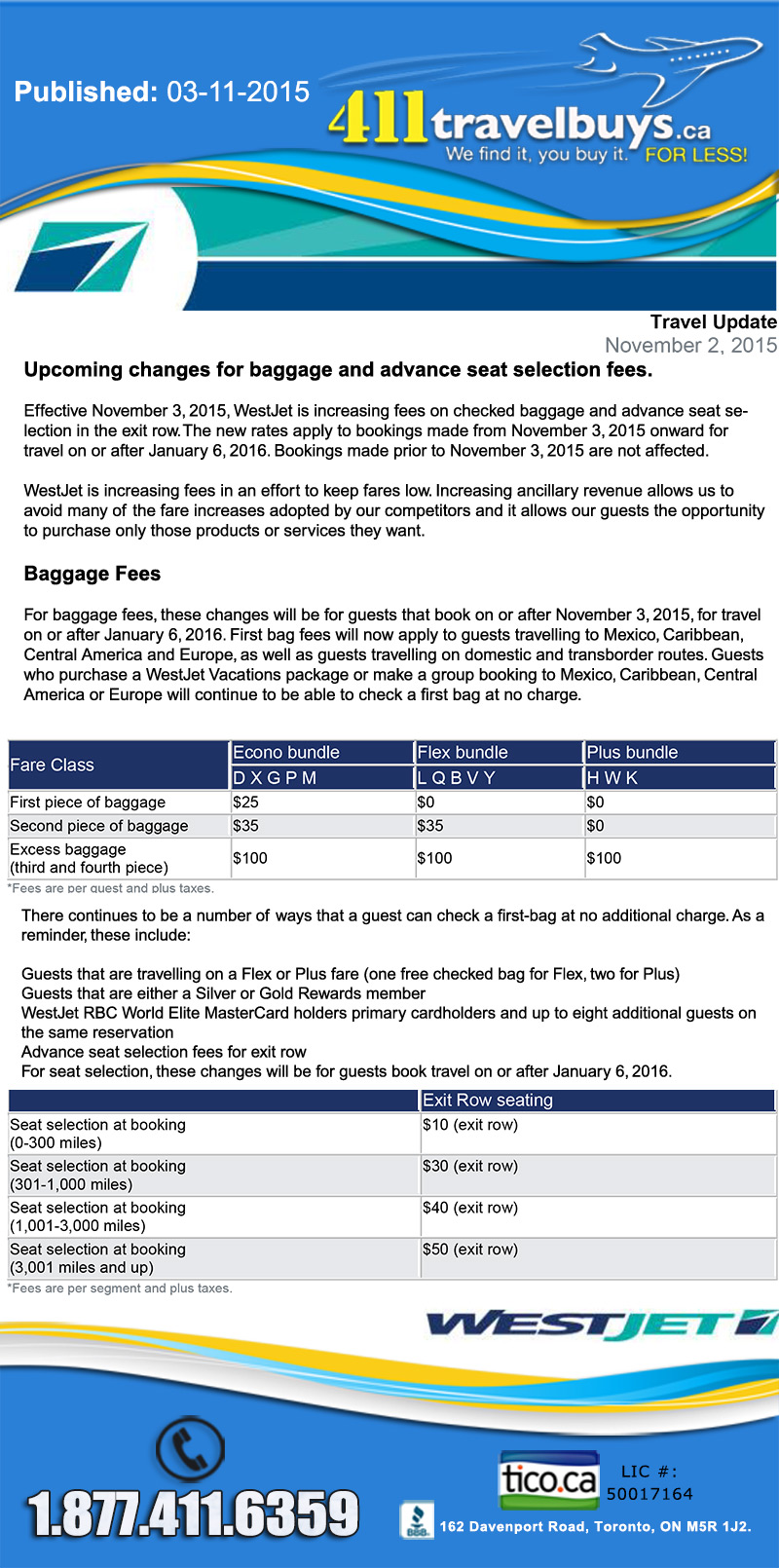 ---