Luxury By Club Med
Club Med has invented a new luxury way of living together in a warm and elegant spirit: exceptional destinations, customised, exclusive services, original activities, interiors designed by international names in the warm-hearted spirit the Club is renowned for. Discover an exceptional new luxury experience, our 5T Resorts and 5T Luxury Spaces: luxury by Club Med..
Discover a collection of 80 properties in 30 prestigious destinations worldwide, a global selection of 3 types of resort and price range, round-trip flights, with a variety of airlines, class types and flight durations to choose from; and much more.
Today,Club Med has invented a new "luxury living together" experience. Exceptional destinations, customised services, exclusive facilities and original activities, in a superbly designed environment. Exceptional elegance combined with the friendly atmosphere of Club Med. Discover our 5 Trident Resorts and 5 Trident Luxury Spaces.
Treat your children to a vacation that will satisfy their curiosity for life. Dedicated areas and activities catering to their specific needs. Children's clubs devised for the various age groups, to suit their individual personalities. 411 travel buys.ca will continue to work hand-in-hand with Club Med to get you the Cheapest, All Inclusive Vacation Packages. More choices than ever await you at Club Med. Adventure, relaxation, sports, entertainment, everyone is looking for something different from his or her vacation.
EVERYTHING INCLUDED - ONE CONVENIENT PRICE!!!

Stay More, Save More on Club Med Summer Sale!
Escape à la Club Med, a world of activities and new experiences! 
Over 60 activities included. All-inclusive vacation deals to Florida, Mexico and The Caribbean.
Book today and SAVE UP TO 40%* OFF ON ALL-INCLUSIVE VACATIONS.*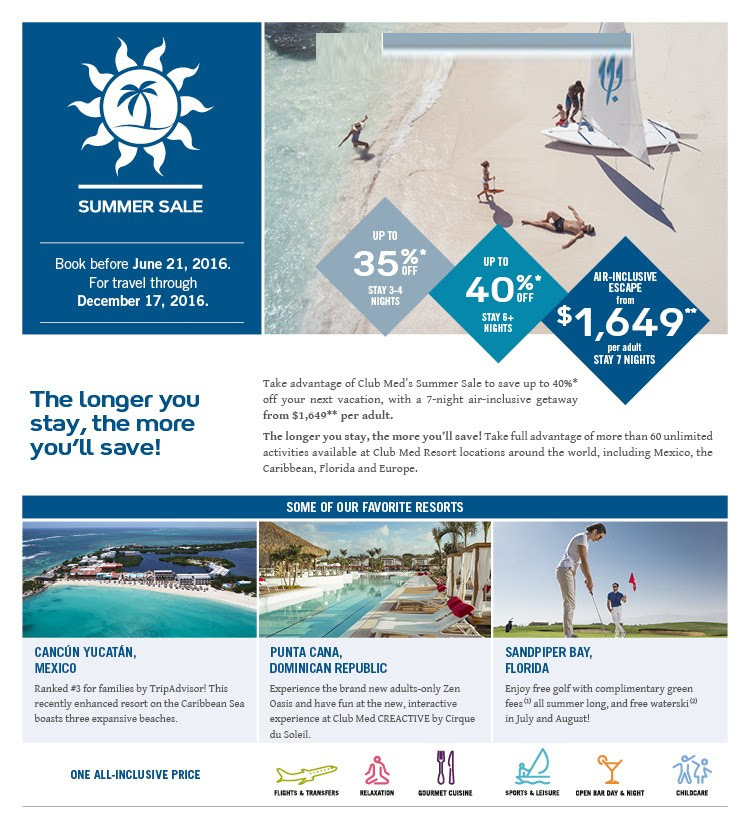 DISCOVER THE CAREFREE ALL-INCLUSIVE VACATION BY CLUB MED

✓ - A collection of more than 65 properties in 30 prestigious destinations worldwide.
✓ - A global selection of 3 types of resort and price range
✓ - Round-trip flights, with a variety of airlines, class types and flight durations to choose from.
✓ - Various categories of accommodations: Club rooms, Deluxe rooms or Suites.
✓ - Room service breakfast in the Suites, and in all room categories in 5-Trident resorts
✓ - Breakfast, lunch, dinner and anytime snacks
✓ - Choice of outstanding gourmet restaurants with a selection of exquisite and lavish buffet spreads
✓ - à la carte menu of specialties
✓ - Unlimited premium drinks and snacks throughout the day with a large selection of sodas, juices, more...
✓ - Club Med Baby Welcome Program®:
✓ - High quality baby equipment, special baby corner with suitable food, baby bottle room
✓ - Free stay3/4 for children under 2 years
✓ - Childcare supervision for children from 4 to 10 years, coordinated by multilingual professionals
✓ - Junior's Club for teenagers from 11 to 17 years
✓ - A wide range of activities and sports programs: tennis, flying trapeze, water skiing, sailing, Club Med fitness.
✓ - Ski resorts: Ski pass and group lessons included with ESF partnerships in France
✓ - Complimentary use of the Turkish bath and Sauna in our 4 and 5-Trident resorts
✓ - Turndown service, stocked mini bar, bar service at the beach and the pool.
✓ - Champagne by the glass in the evening in 5-Trident resorts
✓ - Casual or party night events with live bands and night shows